Hengda Plate and Frame Filter Press Technical Features
Reinforced polypropylene filter plate, filter box molded using patented technology, high strength, light weight, corrosion resistance, acid and alkali, non-toxic and no smell.
Using hydraulic pressure, the maximum clamping pressure 20MPa (2,900 psi), and electrical contact pressure gauge automatic packing.
The maximum filtration pressure is 0.6MPa (87 psi) to ensure the best conditions for the formation of a filter cake as well as pressure filtration.
Simple operation, easy maintenance, and is equipped with multiple safety devices to ensure operator's safety.
Industrial Applications
This type of filter press has a wide variety of industrial applications. It could be used in any solid-liquid separation needs used in coal, petroleum, chemical, metallurgy, medicine, food and environmental protection, textile and other industries.
Filter Area: 10-80 square meters (108 – 861 square feet)
Plate and Frame Filter Press Technical Parameters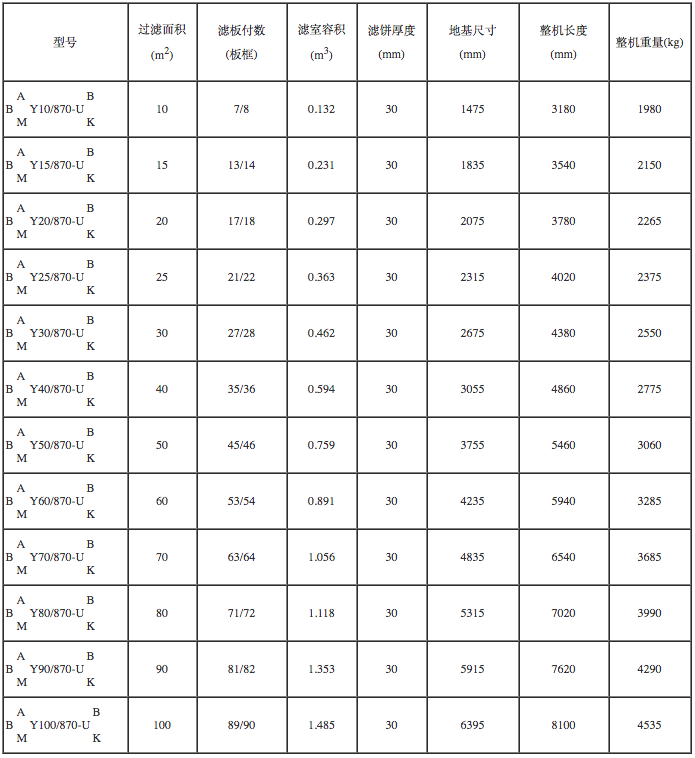 Each type of filter press has many possible technical configurations. The charts here are for general reference only. Hengda Engineering Department designs and constructs each filter press according to project specifications.